Success Story
Sterling Quality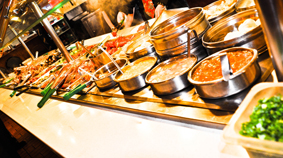 Sterling Quality
--by Cuiyin Zhang

Tucked in a local shopping center on Cascades Pkwy., King's Buffet is a 200 seat restaurant that has been delighting the residents of Sterling since 2001. Now one of the most popular dining spots in the area, King's Buffet has held its own in Sterling's competitive Asian dining scene as a result of its impressive array of offerings and unparalleled service. With a myriad of buffet items and a 6,000 square foot dining area, King's Buffet is just the place to go when you are looking for a great food in a spacious environment.
Mr. Guo, the owner of King's Buffet, opened this upscale all-you-can-eat eatery nine years ago. Now he owns four buffet restaurants in and around Sterling, Virginia.
The restaurant is surrounded by numerous hi-tech companies, businesses, and residential areas. Only a half hour's drive from Washington D.C., Sterling is a city of 130,000 that is packed with knowledgeable and sometimes unforgiving foodies. Not the only Asian restaurant around, King Buffet is just one of a legion of Asian-themed restaurants in the area. However, Mr. Guo enjoys living in Sterling and plans to be there for a long time to come. Thus, it's not surprising to learn that he is well acquainted with the locals and their dining habits. On most days, there is a long queue of people waiting to be seated in the restaurant.
The interior of King's Buffet is a perfect combination of traditional and modern Chinese décor: bamboo dado, a wooden floor, and several large Chinese paintings adorning the walls. To ensure total hygiene, the interior is cleaned daily. From the floors to the tabletops, everything sparkles.
As you wander through the buffet area, you will find three buffet islands. The buffet bars are pleasantly lit, creating a warm atmosphere that improves the mood and entices the appetites of its customers.
Food
The restaurant's popularity doesn't end with its ideal location and cozy dining ambiance. King's Buffet excels at preparing mouthwatering Americanized Chinese food that appeals to American taste budswhile still being faithful to its Cantonese, Hunan and Szechuan origins.Resemblingother ordinary buffet restaurants, King's Buffet offers choices ranging from salads and hot dishes to seafood, sushi, and desserts. Customers with varying tastebuds will all find a bounty of delicious dishes to enjoy.
The food served here is prepared in a variety of ways, including steaming, grilling, stir frying, and deep-frying. All of the sauces are homemade consisting of the freshest ingredients and are jam-packed with flavor. Despite offering up to 100 items, the buffet items are rotated periodically, with at least two to three dishes being added each time. This gives customers new choices and encourages customers to sample a wider number of items, especially since many of them are regulars.
If you are a fan of seafood, King's Buffet is just the right place to go. Stir-fried clams, mussels, crawfish, shrimp, and salmon are just some of the seafood items that the restaurant offers.In Mr. Guo's opinion, buffet restaurateurs should diversify their menu. "Selection is what buffet restaurants specialize in, your goal should be to have as many options as possible" he says. Aside from the seafood items, General Tso's Chicken, Hunan Beef, and Pepper Chicken are some of the other more popular dishes.
Chinese cuisine is famous for its subtle and distinct flavors: Szechuan food is strong and hot, food origins from Fujian Province is sweet and sour, and Cantonese food is light and fresh. Here at King's, each dish is matched with the sauce that best accents its flavors.
"Most of the food provided here is mild and light in taste." Mr. Guo believes that the essence of Chinese cooking is emphasizing the true taste of the food. "I prepare light dishesthat aren't rich or heavily seasoned." Less salt and less oil are important when preparing dishes for people, especially those with special dietary requirements. The nutritious lineup doesn't end here.There are many steamed dim sum items, a variety of fresh fruit,and alsobean curd and vegetable dishes.
There are altogether twelve trustworthy food suppliers that deliver fresh seafood, vegetables, and meat straight to the restaurant everyday except Sundays. Mr. Guo likes to keep his kitchen full without overstocking. And he insists and strongly encourages using seasonal ingredients. "It's the best way to keep down food costs; more importantly, its one way you can ensure freshness." He tries to keep ingredients containing preservatives away from his kitchen as much as possible.
Service
With years of experience in the catering field, Mr. Guo realizes that service is the backbone to service trade. His main philosophy is to guarantee quality, both in food and service.
"Our task is to satisfy customers so that they will return," he says. Whatever a customer demands, King's Buffet endeavors to be able to deliver it. They also wish to offer all manner of conveniences to customers. In that way even the pickiest of customers will be impressed by the staff's considerate service. That creates a tight relationship between the staff and King's customers which has helped the restaurant better customize its dishes to its regulars.
Twenty years ago, Mr. Guo was just a teenager who was battling depression due to the vast language, culture, and lifestyle differences between ?xml:namespace>China and the US. It was during that time that he made a decision that would impact the rest of his life. After taking some time to think about his future, he decided to enter the restaurant industry. This led to him later opening a restaurant, which to him, as well as a lot of Chinese immigrants who come to the States in search of the American dream, is the easiest to realize it. Now after years of success, he no longer runs a restaurant merely to raise his family, instead he focuses on using his buffet to educate his customers about the different facets of Chinese cuisine.
Outlook for the Future
Mr. Guo believes that in order to succeed, one has to be professional at all times. Dedication and persistence are just some of the qualities that a restaurant owner must have. He'd like to take this opportunity to express his gratefulness to his staff, for their years of loyalty and hard work done at King's Buffet.

In the future, Mr. Guo hopes to share his vast knowledge of running a restaurant with others in the Chinese restaurant community. "I believe that Chinese restaurants in America need a platform to link together and should be organized as an independent entity so that each member has a chance to communicate with others, learn from each other, and cooperatively improve the general level of quality of all Chinese restaurants."


------------------

Name: King's Buffet
Location: 21950 Cascades Pkwy Ste 140, Sterling, VA 20164
Phone: 703-421-6988
Cuisine: Asian fusion cuisine
Capacity: 200
Offers: Buffet, Dine-in, Take-out